We are very excited to announce that we have brought a powerful new feature to the LIT SUITE! You can now import video or audio files into TranscriptPad and sync them with their respective transcripts, then create clips and export them for presentation. This capability has the obvious use case of creating video clips of video depositions, but can also be used for the editing and playback of 911 calls, surveillance recordings, EUO statements, or other audio recordings, all while showing the scrolling transcript in the form of closed captions.
If you haven't read Part 1 yet, you ca check out how to sync a video deposition here: litsoftware.com/blog/sync-and-edit-video-depositions-part-1
Editing Your Synced Video or Audio Files in TranscriptPad
Editing video or audio files has never been easier than in TranscriptPad. You no longer need to work with a third-party service provider, provide the page and line designations to create the video clips, wait for the turnaround time to complete the editing, only to make corrections and add or delete designations.
To create a new Video Clip, tap/click the starting page/line number and the ending page/line number in the transcript, the same way you would create a text designation. Make sure that either All Designations or Video Clips is selected from the Show dropdown at the top of the resulting popover. Tap/click Create New Video Clip... and enter a name and choose a color, then tap/click Done.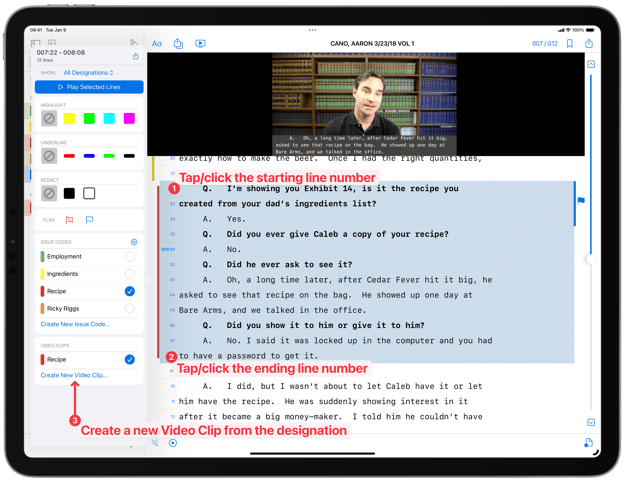 Note that a Video Clip is made up of one or more Video Segments, similar to how a book can contain multiple chapters. So you might create a Video Clip called "Playback For Mediation" and save multiple Video Segments to that Video Clip.
As each Video Segment is created it appears under the Video Clip, showing the source page and line numbers. We also include the first few words that make up that segment as a clue to what that segment is about.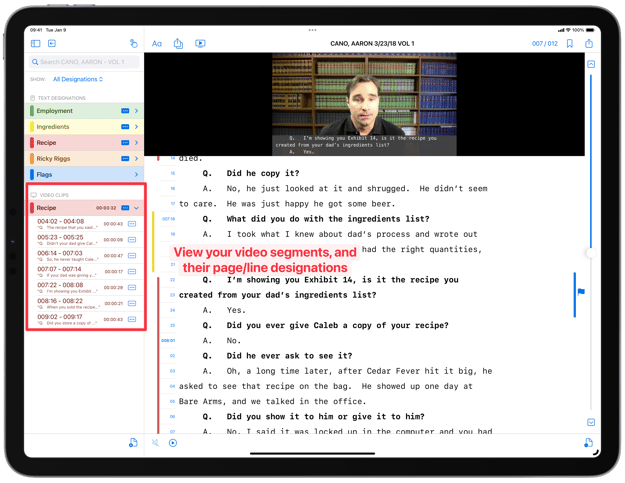 If you want to play any Video Segment to see how it looks or sounds, or to make sure it starts and ends at the right moment, just tap on the More Options button in the segment cell and tap/click on Play. If you want to adjust the In Point and Out Point of a segment to make it start and end at the right moment, tap/click on the same More Options button, then tap/click on Edit Video which will open a new video editing window.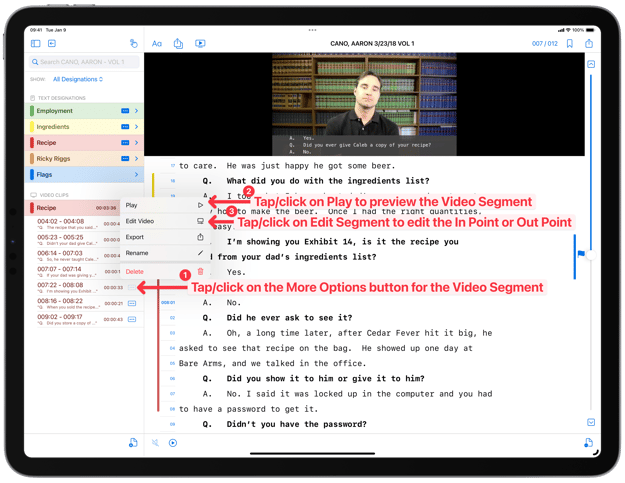 At the bottom of the video editing window, you will see audio waveforms representing the spoken words for the In Point and Out Point. Drag the In Point waveform left and right to get the Video Segment to start at the right moment, then do the same with the Out Point waveform to get the Video Segment to end at the right moment. As you edit the In Point and Out Point of a Video Segment, the changes are automatically saved. When finished, press Done, or you can tap on the Next Segment or Previous Segment buttons at the top of the window to quickly move to other video segments.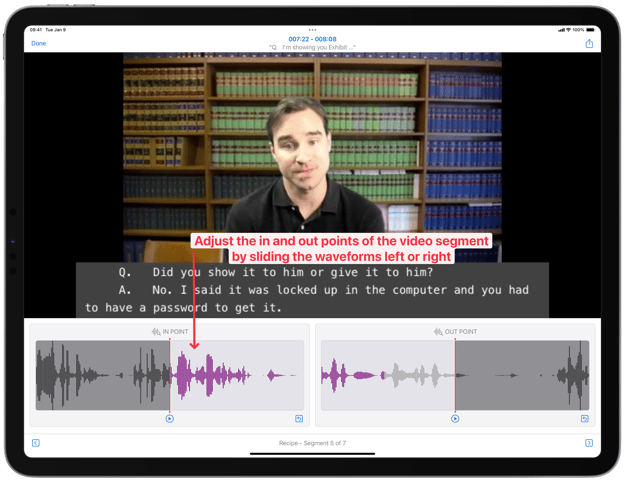 (If you have existing Text Designations, made up of Issue Codes or individual designations, you can convert these to a Video Clip. Simply tap/click the More Options button to the right of the Issue Code name or page/line designation, and choose Convert to Video Clip.)
Exporting Video Clips
You can export a Video Clip as one video file, or as multiple video files that are created from each Video Segment in the Video Clip. Simply tap/click Select, and select the Video Clip you want to export, then tap/click Edit, and choose Export Selection as One Video File or Export Selection as Multiple Video Files.
Before exporting you should choose whether to include closed captions (subtitles) with the video file and if they should appear over the video or below the video, which will shrink the video slightly so no part is obscured. You can change the Video Preferences by going to Settings in the main Cases Screen.
You can choose to export directly to TrialPad for presentation, or to the Files App or a USB drive where your videos can be used in a slide presentation program like PowerPoint, or uploaded to a cloud storage provider. The exported file(s) will be named using the deponent name and either the page and line numbers for a Video Segment, or the Issue Code name for a Video Clip.
Advantages of Syncing, Editing, and Exporting Your Video or Audio Files in TranscriptPad
There are many advantages of being able to sync, edit, and export clips of your video depositions using TranscriptPad:
Accuracy: Creating your Video Clips from your own page/line designations means you no longer have to type out those page/line designations for the service provider, removing the possibility of human error.
Speed: No more waiting for a service provider to receive your designations, creating the video clips from those designations, then editing and exporting the video clips.
Confidence: You can instantly preview the video to see the demeanor of the witness outside of the written words before you create Video Clips for playback.
Agility: Make video clips at a moment's notice for mediation, to assist with client preparation, to use during hearings, and even for impeachment in second or third-round depositions.
Cost: Saving about $300 per video deposition compared to the services of a third-party service provider!
We know you'll find even more benefits, and we are excited to see how you implement this new capability in your practice!
Important Information
Before getting started, be sure to check out the important Help Center articles below, which include the hardware and software requirements necessary to avail of this new capability, as well as what the compatible video and audio file formats are, and more details on how to sync and edit a video or audio file in TranscriptPad.
https://support.litsoftware.com/how-do-i-sync-a-transcript-with-the-video-of-a-deposition-and-edit-clips
https://support.litsoftware.com/what-are-the-supported-file-types-in-transcriptpad
https://support.litsoftware.com/what-format-do-video-files-have-to-be-in-to-play-in-transcriptpad
We Love to Hear from Our Customers!
This new syncing and editing capability has been released as a public beta, so we would love to hear your thoughts and experiences as we continue to improve it with constant updates. Send us an email with your feedback to support@litsoftware.com
Want to Know More?
Check out our post on how to sync your transcript with video or audio files in TranscriptPad! https://www.litsoftware.com/blog/sync-and-edit-video-depositions-part-1